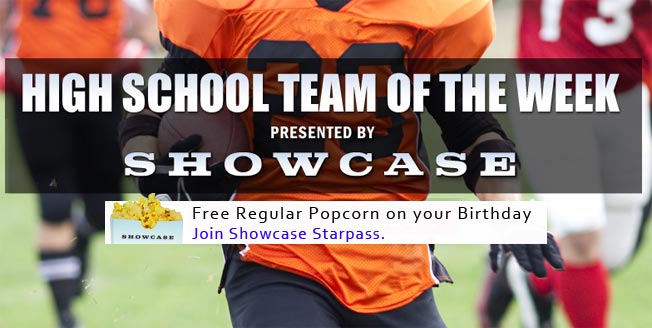 Congratulations to this week's Showcase Cinemas High School Team of the Week: East Greenwich High School Field Hockey!
This week's spotlight was sent in by Mindy Burbridge:
First of all, I would like to recognize every team in the state that has paid tribute to Maddie Potts. Unbelievable tragedy and my heart goes out to her family and community. The E.G. Varsity Field Hockey team has shown amazing grit, determination, and solid teamwork. Last year, they lost in OT to Barrington in the State Championship game. It was heartbreaking. They started this year with a new commitment to work hard and work as a team. They played Barrington on their home field which is grass… E.G. is very fortunate to play on a turf field. At times, grass has been a struggle for them. They lost the game. Then they played Moses Brown in E.G. and lost in OT. They didn't let either of these losses get them down. They continued to work hard and work as a team.
Friday, September 29th Barrington came to E.G.  They were undefeated at this point. The team could have let that get into their heads, but they didn't. E.G pushed forward and played the game with their absolute hearts. E.G. scored first, but then Barrington scored. Was it going to be the same with Moses Brown? Would they lose or go into OT? Nope. The girls stayed true to themselves and their game. They beat previously undefeated Barrington, the team who also beat them in OT in the state championship game 2-1. The atmosphere was absolutely electrifying.
As parents, we are all so proud of our daughters. They pushed themselves as a team and persevered. At their Play for the Cure game on October 11th they will wear pink shirts with blue lettering to honor Maddie Potts. Their shirts will also say #forever11 in blue. I truly hope this team is recognized for their compassion, ability to play as a team, and commitment to one another and their community. Thank you.
Cumulus Media Radio Stations, Showcase Cinemas, & the Rhode Island Interscholastic League congratulate this week's stand-out team of the week.
Hear the team featured on Cumulus Media radio stations all week during our special on-air features, being played for the hundreds of thousands of local listeners, or on-demand below!