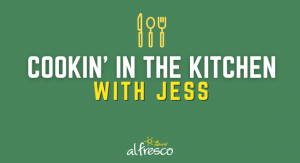 WELCOME TO COOKIN' IN THE KITCHEN WITH JESS!
MIDDAY PERSONALITY, NOW CHEF, JESS, HAS TEAMED UP WITH AL FRESCO CHICKEN SAUSAGE & IS WHIPPING UP SOME GOODNESS FOR YOU TO VIEW AND THEN LATER ENJOY!  CHECK OUT HER FIRST VIDEO!   AL FRESCO ALL NATURAL.  IT'S CHICKEN, ONLY BETTER.
SHE MADE, AL FRESCO CHICKEN ROASTED PEPPER & ASIAGO CHICKEN SAUSAGE WITH BROCCOLI, SUNDRIED TOMATOES ON PENNE PASTA!  FOR MORE RECIPE INSPIRATION HEAD TO ALFRESCOCHICKEN.COM
Episode 2 of Cookin' in the Kitchen with Jess. Today she made Crescent Roll Chicken Sausage Pizza with al fresco Chicken.  al fresco all natural. It's chicken, only better.
Find out more at alfrescochicken.com
In Episode 3 of Cookin' in the Kitchen with Jess, she brings in celebrity chef & owner of Avenue N American Kitchen, Nick Rabar.  They're on the grill making the Ultimate Chicken Sausage Salad!