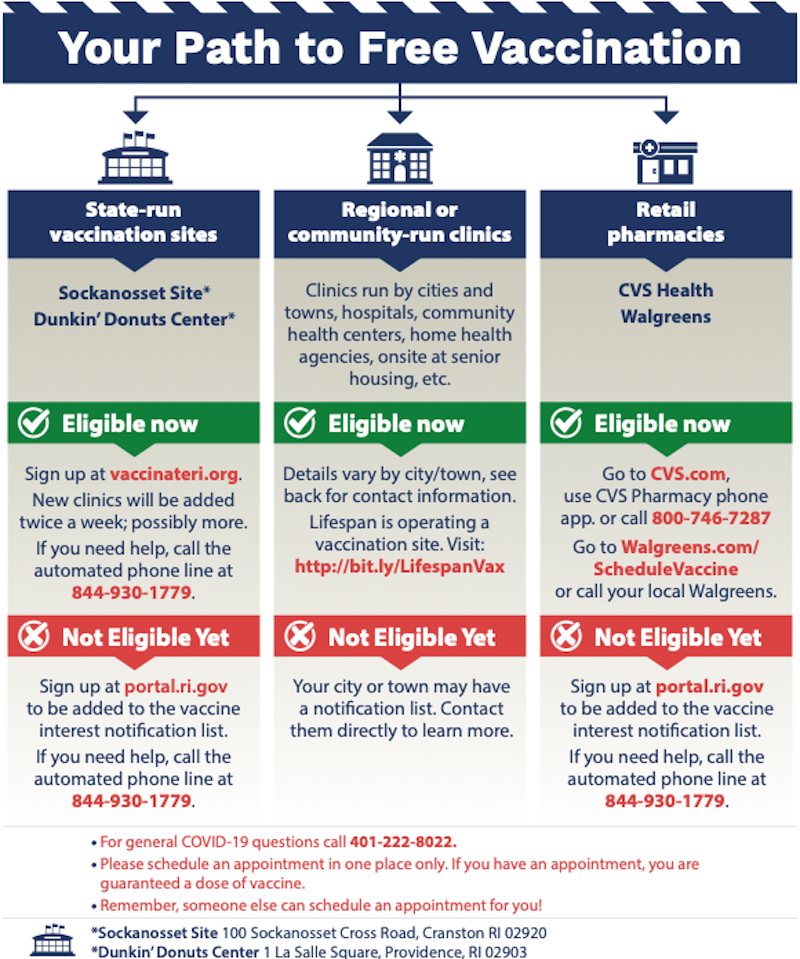 COVID-19 vaccination eligibility is open for Rhode Islanders who are 60 to 64 years of age and who are 16 to 64 with specific underlying health conditions
New appointments at Rhode Island's State-run vaccination sites will be added to www.VaccinateRI.org beginning at 5 p.m. on Friday. (New appointments are regularly added on Tuesdays beginning at 9 a.m. and Fridays beginning at 5 p.m.) Walgreens and CVS expect to adjust their eligibility criteria to take appointments for people in these two groups at 11 a.m. on Friday.
People age 16 to 64 are eligible to be vaccinated if they have one of the following conditions: diabetes (type 1 or type 2); lung disease (such as COPD, emphysema, or cystic fibrosis); heart disease; or kidney disease. People age 16 to 64 are also eligible if they have a weakened immune system. That includes people who have cancer, people who get chemotherapy or radiation, people who have HIV/AIDS, people who have sickle cell disease, people who take medicine that weakens the immune system, and people who are pregnant. A full list of qualifying conditions is available online.
People Who Are Homebound
The state has established a form that people can fill out if they are homebound. To be clear, this is not a vaccination registration form. This is a form to collect information for planning. The form is here: http://bit.ly/homeboundvax. It can also be filled out by a healthcare provider or family caregiver of someone who is homebound.
State Run Vaccination Sites
To register to be vaccinated at one of the State-run sites, visit VaccinateRI.org. People who cannot register online can get help by calling the automated line at 844-930-1779. The call center is open on weekdays from 7:30 a.m. – 7:00 p.m. and weekends from 8:00 a.m. – 4:30 p.m. Through both systems, an individual can either make a personal appointment or an appointment for someone else who is in the eligible age category.
Local Pharmacies
CVS Health
Vaccines in select retail pharmacies will be offered on an appointment-only basis via cvs.com or through the CVS Pharmacy app, and those without online access can contact customer service: 1-800-746-7287.
Walgreens
Appointments can be made at select retail pharmacies through Walgreens' updated appointment scheduler at Walgreens.com/ScheduleVaccine or by calling retail pharmacies.
If you're not eligible yet you can also sign up for the interest list at http://portal.ri.gov
NOTE: Cumulus Radio LLC (or its sponsors or affiliates) is not responsible for the accuracy and completeness of the information on this website.  Please check with your city/town/municipality directly for the most up to date information.
Real Time Vaccination Data:
Note: People who have any of the medical conditions below are more likely to be hospitalized if they get COVID-19. COVID-19 vaccine supply to Rhode Island is still limited, so this is only the first group of people who will be prioritized for vaccination. This list does not replace CDC's inclusive list of underlying medical conditions that increase the risk of severe illness from COVID-19. As we get more vaccine, more medical conditions will be added to the list.
Diabetes
• Type 1 (people who use insulin)
• Type 2 (people who do not use insulin)
Lung disease
• COPD (chronic obstructive pulmonary disease)
• Emphysema
• Cystic Fibrosis
• People with significant decreased lung function
• People with ALS (Lou Gehrig's disease)
Heart disease
• Congestive heart failure
• Coronary artery disease
• People with enlarged hearts (cardiomyopathies)
• People with other significant heart conditions
• People with Down Syndrome
Kidney disease
• People on dialysis
• Significant chronic kidney disease
Weakened immune system
• Cancer
• People who get chemotherapy or radiation
• People who have had a transplant or are waiting for a transplant
• HIV/AIDS
• Sickle cell disease
• People who have a disease that weakens the immune system
• People who take medicine that weakens the immune system
• Pregnancy